Fishing in the Park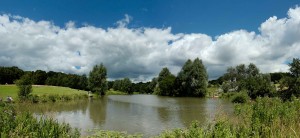 The fishing lake in Highwoods Country Park is an excellent coarse fishery.  It is very good for those looking to learn to fish as the lake contains a good mix of fish including roach, tench, gudgeon and carp (with the largest carp caught over the last couple being 19lb – it is rumored that there is even a larger one at 22lb).
Fishing is a very popular sport and is relaxing, especially in the wonderful surroundings of Highwoods Park.  So if you are just starting, have been fishing for years or used to fish, why not get out that rod and spend a morning having fun.  Tight lines!
Fishing Times
Fishing is allowed between 7.30 am and 9 pm (or dusk if that is earlier) during the fishing season from 16 June to 15 March.  You will need a day or season permit to fish.  It is important to protect the lake by preventing over fishing.  To achieve this the number of people able to fish is limited, so only 120 season permits are sold each year and only 6 day permits a day.
Environment Agency Rod Licence rules and local rules apply.  Please note that the lake observes the closed season from 16 March – to 15 June inclusive for both season and day permit holders.
Access may be difficult for people with reduced mobility as the lake is some distance from surfaced paths. If you have mobility problems and still want to fish please talk to the staff on site (Tel. 01206 853588) they may be able to help.
Season permits 2015/16
You can purchase a fishing permit for the 2015/2016 season at a cost  of £43 for an adult and £26.40 for a junior permit.
Only 120 Season permits are sold each season. You can  
 Download application form here [21kb] . Alternatively you can obtain an application form by using the details below
What you will need
To purchase a licence you will need a recent photo, completed form and full payment.  All need to be sent to Parks and Recreation, Colchester Borough Council, Rowan House, 33 Sheepen Road, Colchester, CO3 3WG
Day permits 2015/16
Adult day ticket costs £8.70
Junior day ticket costs £5.30
Day tickets can be purchased from: K D Radcliffe Ltd, Gunsmith & Fishing Tackle, 131 Berechurch Hall Rd, Colchester CO2 9NR. Tel. (01206) 572758
Their opening hours are:
9.00 to 5pm Mon to Fri  but have half day closing Thursday from 1pm.
Saturday its 8.30am to 4.30pm.  There is ample parking.
E-mail info@kdradcliffe.co.uk
Web – www.kdradcliffe.co.uk
Note: K D Radcliffe is no longer in the High Street, the new address is actually on the other side of Colchester from Highwoods Country Park.  Please make sure you allow time / plan ahead to purchase your licence to avoid disappointment.
Car parking charges
Car parking charges apply to the Turner Road Car Park.  Anglers holding season or day fishing permits are exempt from these charges providing they hold and display a valid car parking permit. Car parking permits for season fishing permit holders can be obtained via the downloadable application form on this page and for day permit holders at Ratcliffe's when purchasing a day fishing permit.
Failure to display a parking permit during your stay is a contravention of the car park regulations, as is use of the permit at any time other than when you are fishing in the Country Park and is likely to result in the issue of a penalty charge notice of £50. A Parking Permit is not required for the Chanterelle Car Park.