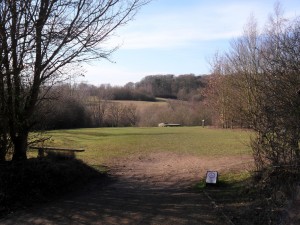 High Woods Country Park is one of Colchester's favourite parks due to it's mix of woodland, open spaces, lake and meadows.  On a sunny day (or even wet day) you will find many people enjoying the facilities and a well deserved picnic (or a couple of tea and cake purchased from the Visitors Centre).  The Park is well maintained and this has resulted in the prestigious Green Flag Award (the benchmark national standard for parks and green spaces in England and Wales).
The Park is situated to the north side of Colchester, Essex (situated between Turner Road and Ipswich Road).  Being such a short distance from central Colchester, it is easily accessible by car, bus (No's 8, 8a and 65 that can be caught from bus stand in Head Street), train (the Park is only 1/2 mile from Colchester train station) or, if you are feeling healthy, even by bike or on foot.  Visit the Location page for the address and map.
The Park really has something for everyone.  Clearly marked walks suitable for walking, dog waling, running and cycling.  Play areas to challenge children.  A well stocked fishing lake.  Open spaces for sitting and relaxing or playing games.  Lots of benches for picnics and much, much more.
There is a Visitor Centre where you will be able to get useful visitor information.  This is situated next to the car park.  The Visitor Centre is accessible to wheelchairs and provides a bag drop facility.  There is toilet facilities (including an accessible toilet).  The gift shop serves refreshments including tea and coffee.  There is also a small gift shop.  Sometimes you will find free and activities taking place in the Visitor Centre.
There are a number of events and activities that take place throughout the year.  This includes seasonal guided walks, bat walks, volunteer days, learn fishing and much more.  Visit the Events page to see a list of the up coming events.  While some are paid (to cover costs), many are free!
High Woods Park History
The wood originates from a mixture of woods and arable / pastoral farmland.  It was once within the medieval Royal Forest of Kingswood and was valued for its timber.  Much of the woodland was converted to plantations of sweet chestnut within the last 200 years.
In 1987 it was changed to the status and use of a Country Park.  This helped protect the park from the very large housing development that was built within the High Woods area.
The Park has gone from strength to strength.  This includes holding the prestigious Green Flag Award since 2004.  In 2008 the Big Garden project was awarded the Special Innovation Award for Conservation and Heritage.  The Park has also been awarded accreditation as a Quality Attraction which is part of Visit Britain's Visitor Attraction Quality Assurance Scheme.
High Woods Country Park is truly one of the jewels of Colchester.  It is enjoyed every day by visitors and local residents regardless of the weather.  So why not plan your own trip and enjoy this wonderful park for yourself and your family.